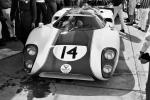 Ulf Norinder and Jo Bonnier drove this Lola T70 Mk.3B GT in the 1969 12 Hours - DNF due to a broken radius arm. ..
Date: 05/15/2018
Views: 406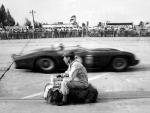 Safety was not really in question in 1962 - Here driver Olivier Gendebien sits on a hay bale as Innes Ireland zips past...
Date: 05/19/2018
Views: 480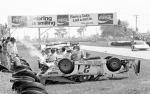 1982 - John Fitzpatrick looks a bit dazed as the corner marshals try to comfort him after he wrecked his Porsche 935...
Date: 05/19/2018
Views: 454
Start of the 1956 12 Hours...
Date: 05/26/2018
Views: 519